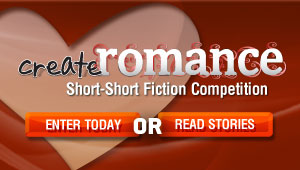 Hey You Romance Lovers & Lovers Of Simply Good, Clean, Short-Short Fiction!
Family Fiction's Create Romance contest is underway for 1000 word (one page) romance stories. Once the entries have passed a first round screening, they are posted on the Family Fiction contest page for public voting. Anyone can vote (you just have to provide an email address). You can vote once for each story you like. The stories with the most votes move on to further rounds, and the author who takes first place in the final round wins an all expense paid trip to American Christian Fiction Writers' Conference 2013. Voting ends in August.
I've entered two stories. The titles are links to read them:
Before Another Day Ends
is a touching story about a young woman who finally admits she's in love with her best bud, only . . . it may be too late.






In
Hope Lights The Way,
there's just something familiar about the quiet, handsome man Lily has been serving breakfast at the diner.
You are welcome to vote as you please for mine and/or any other stories you want to win.
Thank you so much for taking a brief moment to read my short stories (consider it a super cheap birthday gift to me!) and for supporting Christian Fiction!